Fassaden
Fassaden
Mit den Platten Infinity gestalten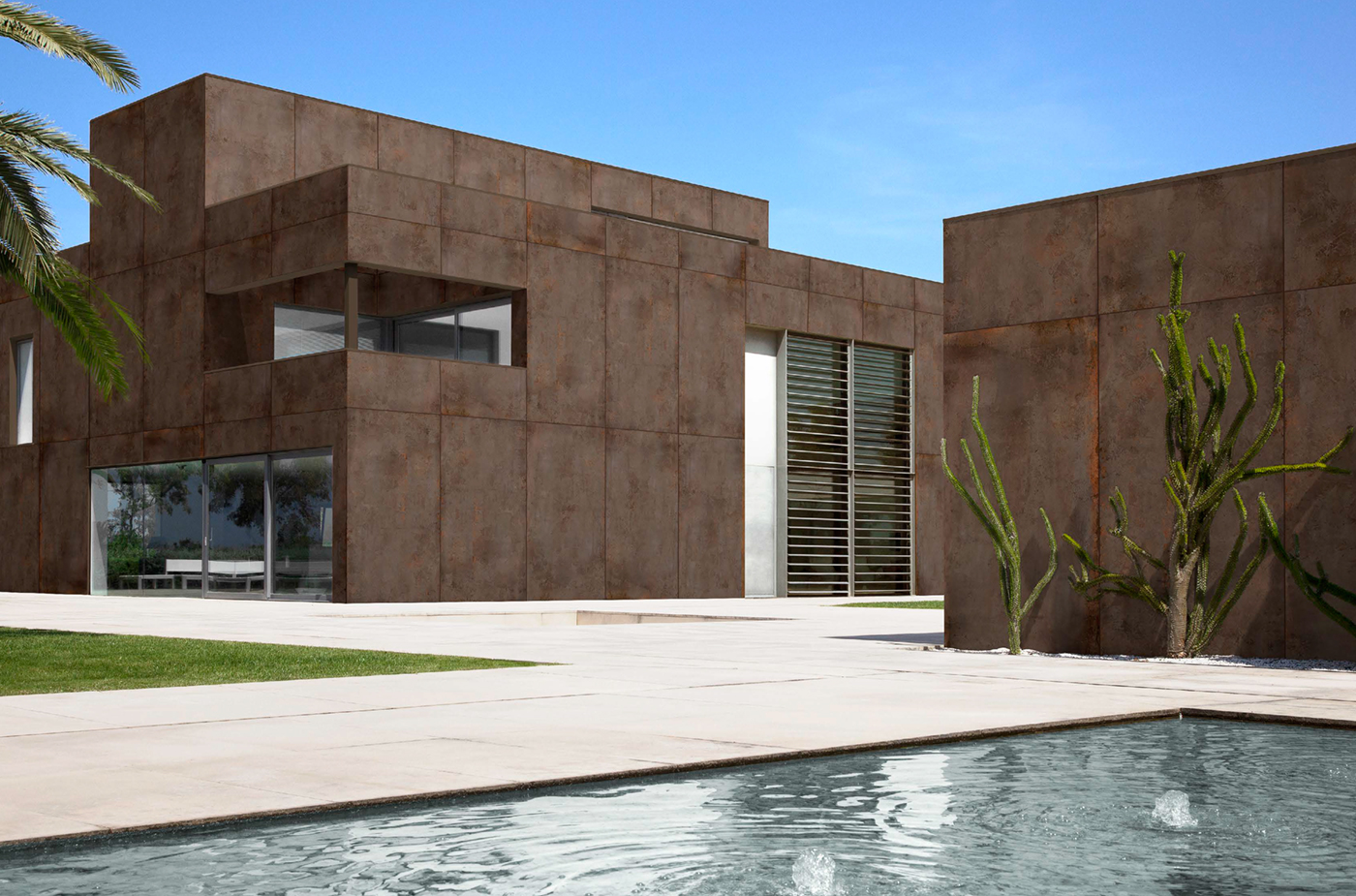 Ventilated façade
DIE PLANUNG
Infinity bietet verschiedene hinterlüftete Fassadensysteme an. Die Experten der Projektabteilung bieten einen internen Projektierungsservice an, der darauf abzielt, die ästhetischen Entscheidungen in Bezug auf die erforderliche technische Leistung und die Wirtschaftlichkeit des Systems zu optimieren.
Dabei wird das Architekturprojekt genau in Augenschein genommen und durch die Analyse der verschiedenen Komponenten der Fassadensysteme optimiert:
Trägerplatte mit Infinity-Platten
Hinterlüftungsraum
Wärmedämmschicht
Fassadenkonstruktion
Gebäudestruktur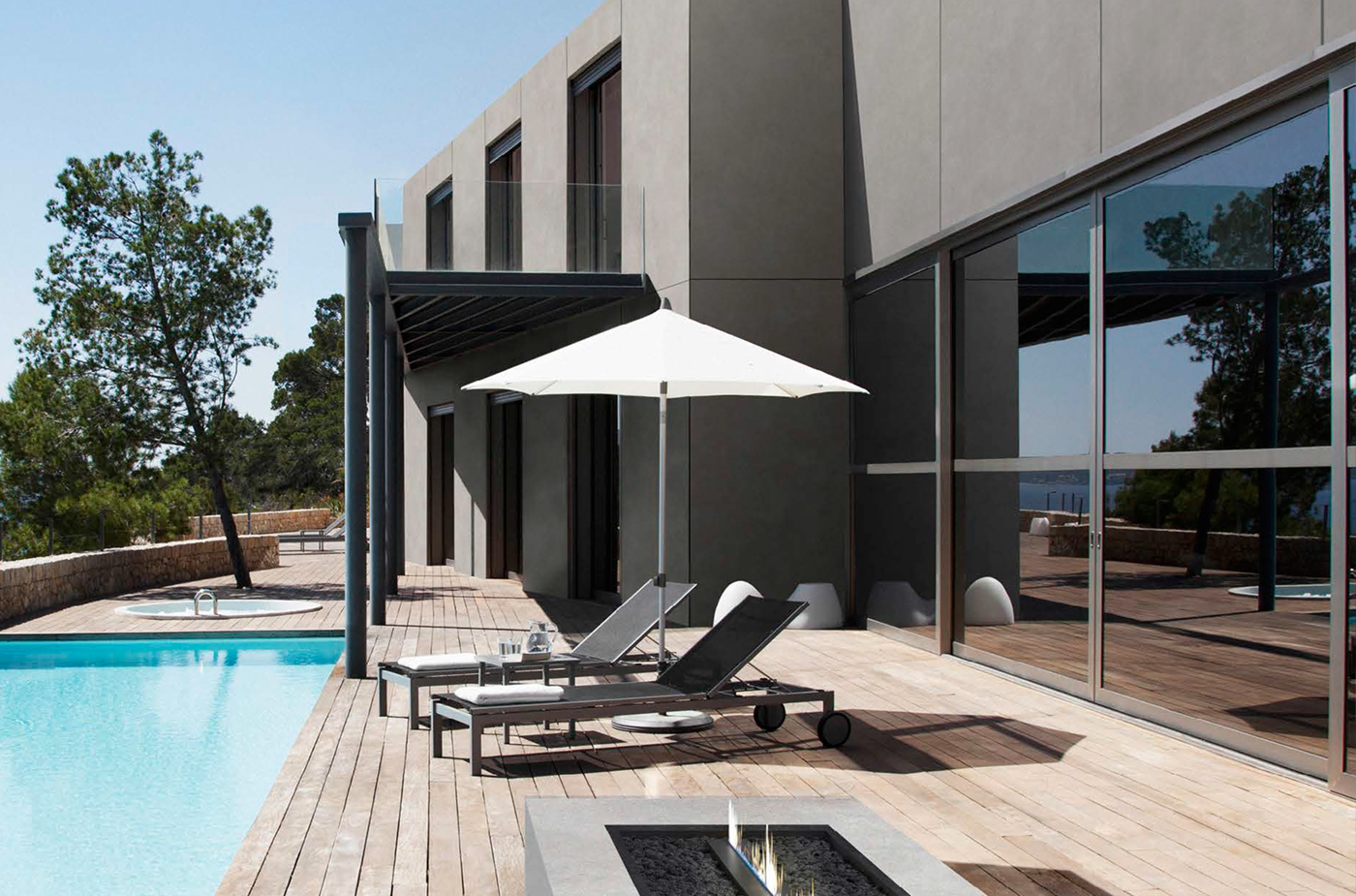 A SUSTAINABLE SOLUTION
Ventilated façades are a highly sustainable system, aimed to increase the energy performance of buildings.
The ventilated system works with the thermal insulation layers to minimise consumption linked to the cooling of interior areas, to improve indoor comfort, to disperse moisture from the walls behind and to protect them from bad weather.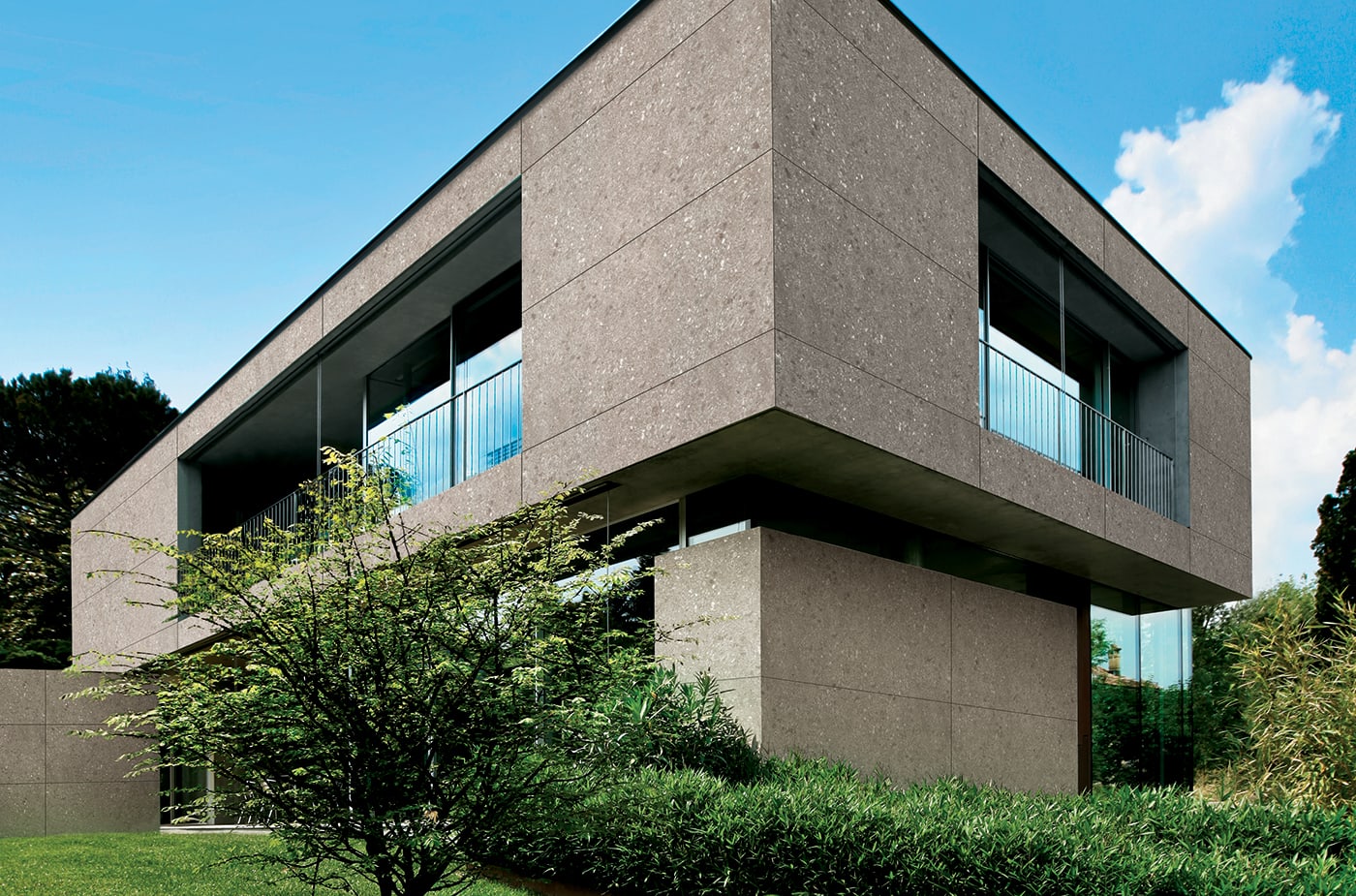 The Project Division of Infinity specialises in the design and consultancy for any type of architectural project. "Tailor-made" applications are fitted to the needs of customers, architects and industry professionals.
Complete competency and in-depth experience is ensured by our experts who will always find concrete and punctual solutions for the project requirements and after-sales assistance.
Would you like to know more about the Infinity products?
Mehr Infos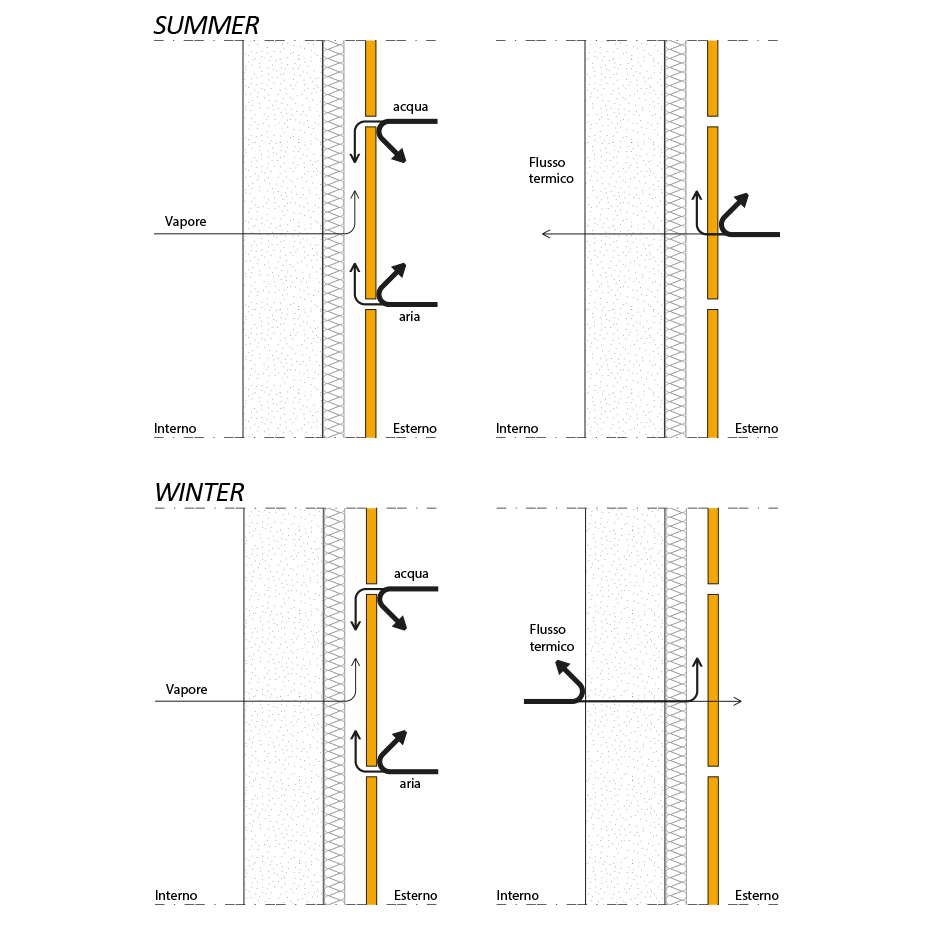 HOW IT WORKS
The UNI 11018 standards define the ventilated façade as a type of rain screen barrier where the cavity between the siding and the wall is designed in such a way that the air within it can flow naturally thanks to the principal called "chimney effect", which notably improves the overall thermal-energy performance of the building.
Die Vorteile Der Hinterlüfteten Fassade Infinity
Would you like to know about Infinity's commitment to the environment?
Mehr Infos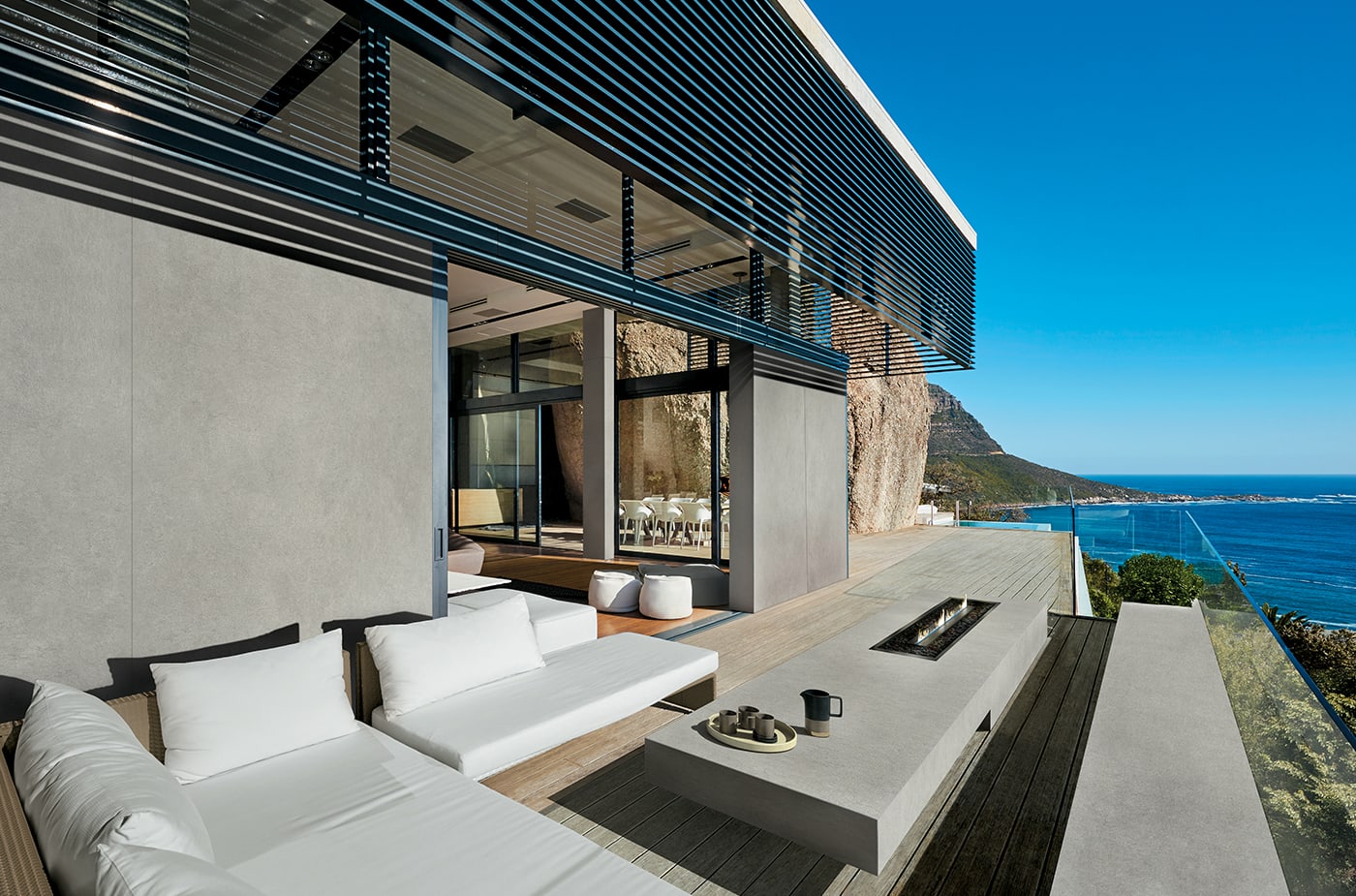 Types of ventilated façade
Infinity offers two categories of Ventilated Façade based on the thickness of the slab used:
6mm
Hybrid chemical/mechanical anchorage system
12mm
Purely mechanical anchorage system
Hinterlüftete Fassade mit
6mm 

starken Infinity-Platten
Die Infinity-Platten in der Größe 1600x3200mm und mit 6mm Stärke ermöglichen die Realisierung von hinterlüfteten Fassaden, die ein sehr geringes Gewicht haben. Die geringere Plattenstärke erlaubt jedoch keine rein mechanischen Befestigungen, sodass die vorgeschlagenen Systeme chemische Klebstoffe verwenden, um die Windbeständigkeit der Fassade zu verbessern.
An dieser Verankerung sind immer mechanische Sicherheitshaken angebracht. Chemische Klebstoffe erfordern während der Applikationsphase große Sorgfalt, weshalb bei Infinity-Systeme die werkseitige Vorfertigung dieser Verklebung erforderlich ist, um die Einhaltung des Applikationsprotokolls zu gewährleisten.
Dafür gibt es drei Möglichkeiten:
Prefabrication on aluminium vertical profile
Die Infinity-Platten werden dabei auf Aluminiumprofilen mit speziellen chemischen Klebstoffen vormontiert. Diese sind speziell geformt und können verborgene mechanische Haken und vertikale Stützen aufnehmen, die die Sicherheit des Systems unabhängig von den Umgebungsbedingungen gewährleisten.
Prefabrication onto panel
Die Feinsteinzeugplatte wird durch Kleben und Pressen auf eine Platte aus einem modifizierten Polymerkern und einem Stahlblech vormontiert. Die Endstärke von 18 mm ermöglicht die Herstellung von Eckelementen und monolithischen Elementen mit großer architektonischer und ästhetischer Wirkung.
Prefabrication on an aluminium frame: closed-joint system
Das System zeichnet sich durch ein hohes ästhetisches Niveau aus, das durch die Möglichkeit, alle Fugen zwischen den Infinity-Platten zu schließen, erreicht werden kann. Die Fassadenplatten werden werkseitig mit einem Aluminiumrahmen vormontiert, der die Widerstandsfähigkeit erhöht und die Befestigung am Mauerwerk ermöglicht.
Would you like to see the 6mm Infinity graphic designs available?
Mehr Infos
Hinterlüftete Fassade mit
12mm

starken Infinity-Platten

Durch die Verwendung von 12mm starken Infinity-Platten können rein mechanische Befestigungssysteme eingesetzt werden, die ein Maximum an Sicherheit und Langlebigkeit der Fassade bieten. Infinity empfiehlt:
Conical undercut anchorage
Infinity-Platten werden hergestellt und werkseitig mit speziellen Fräsern bearbeitet, die Löcher mit einem kegelstumpfförmigen Querschnitt auf der Rückseite der Platte anbringen. Die bauseitige Befestigung der Struktur erfolgt durch Einsätze, die sich innerhalb der Bohrung ausdehnen, ohne jedoch Spannungen im Plattenkörper zu erzeugen. Dieses System ist vollkommen mechanisch, erleichtert die Verpackung und den Transport und gewährleistet die gewohnte Verlegung in jeder Umgebungssituation.
Would you like to see the 12mm Infinity graphic designs available?
Mehr Infos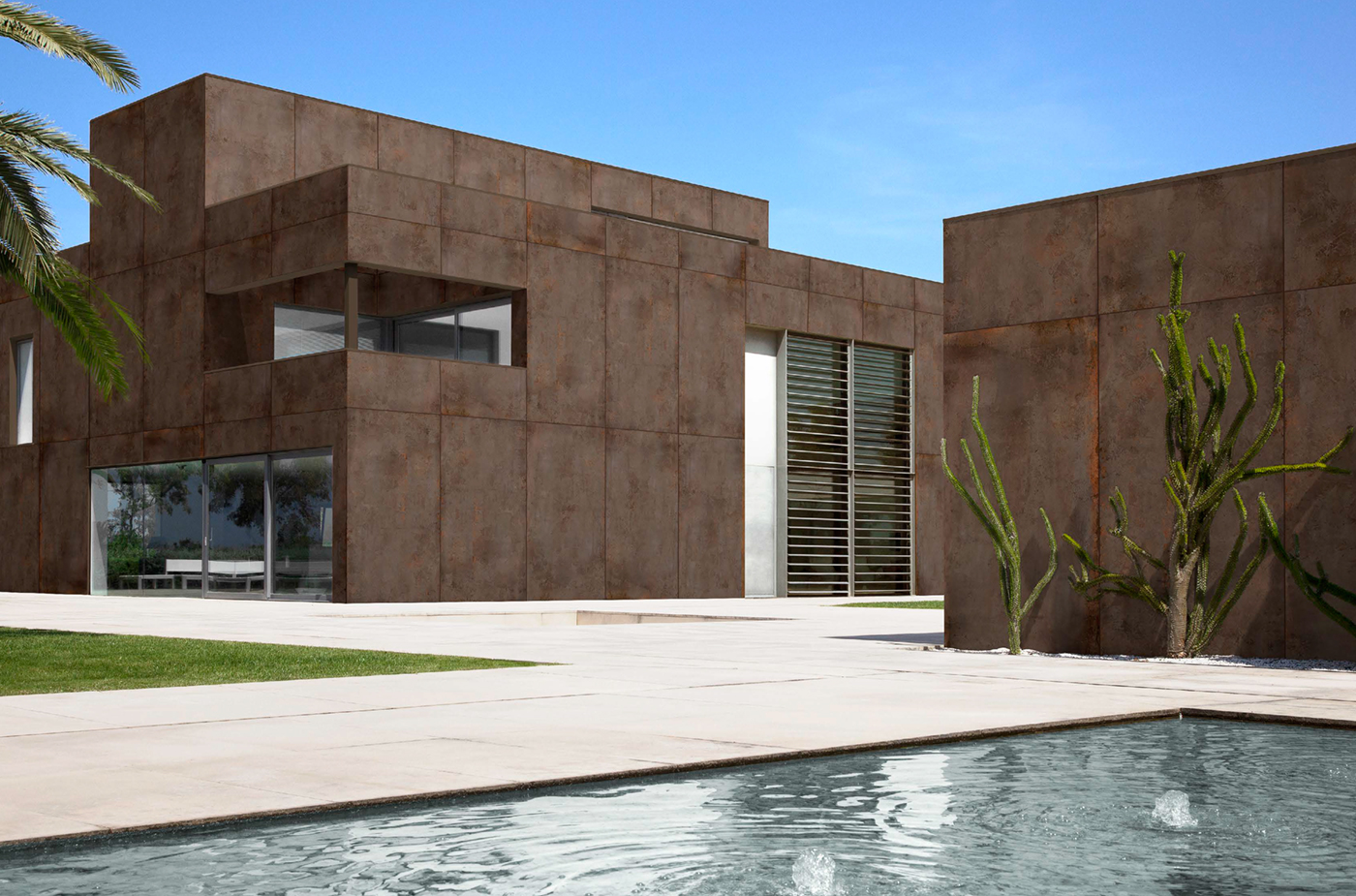 Glued façade
The use of ceramic materials directly onto the wall, both inside and outside is particularly common worldwide.
Hierfür eignen sich Infinity-Platten, die dem Gebäude
wichtige Vorteile und Mehrwerte bieten
Would you like to know about other applications for the Infinity slabs?
Mehr Infos